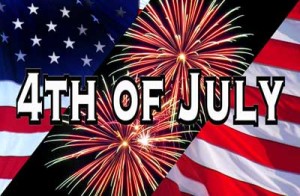 As we celebrate Independence Day, we unite together in honor of freedom and those that came before us that made it a possibility. Fireworks, parades, and picnics  are long-standing, country-wide traditions that we all enjoy. And if you are looking for the perfect place to join in the celebration, Northern Wisconsin is the best there is! With so many small town parties to choose from, it can be hard to decide. North Twin Builders has put together this list of local celebrations to help you out – and our personal recommendations!
Eagle River:
9:30 – 4:00: Watermelon Days at the Vilas County Fairgrounds, both Friday and Saturday
11:00: Parade downtown – this year's theme is "Saluting our volunteers & service organizations"
Fireworks over Hi-Pines Campground!
St. Germain:
(June 29th)
10:00 – 4:00: Craft Fair
1:00: Parade, with rides and games to follow
Fireworks
Manitowish Waters:
9:00-4:00: Arts & Crafts Show, kids games, food & beverages, live music
1:00: Parade
7:00: Skiing Skeeters Water Show
Fireworks!
Lac Du Flambeau:
12:00: Parade, Native American crafts & food
6:30: Special Pow Wow
Fireworks!
Conover:
1:00: Parade, town picnic
Boulder Junction:
12:00: Parade – Don't forget to wish Smokey Bear a Happy Birthday!
Fireworks!
Minocqua:
3:45: Kiddie Parade
4:00: Parade
6:15: Boat Parade
7:00: Water Ski Show
Fireworks!
North Twin Builders 4th of July Recommendations
All of the local Northern Wisconsin towns will undoubtedly have fun celebrations and great fireworks, but who wouldn't want to spend the day with the clear waters of North Twin Lake as the backdrop? Phelps 4th of July Celebration is a true small town extravaganza, with a friendly community as the perfect host. And, to make sure you get in the most excitement possible, nearby Land O'Lakes also has plenty to offer. That said, here's our suggested 4th of July schedule!
Thursday, July 3rd in Land O'Lakes:
6:30: Enjoy great company, food, drinks and live music at the Gateway Lodge
Dusk: Stick around for a fantastic fireworks display over the Land O'Lakes airport
Friday, July 4th in Land O'Lakes and Phelps:
12:00: Check out Land O'Lakes parade, grab a snack, and hurry on over to Phelps to really get started!
3:00: The Phelps parade will run through downtown Phelps, with plenty of candy for the kids. You never know who or what you will see!
3:00 – 11:00: Refreshments and food served on the shore of North Twin
3:45: Watch the award-winning Chain Skimmers Ski Team perform on North Twin Lake
4:00 – 8:00: Enjoy the beautiful sounds of music by Popular Girl
4:30: Send the kiddies over to try out a variety of kids games and races
6:00: Enjoy a good old-fashioned pie eating contest
Dusk: Watch a spectacular one-of-a-kind fireworks display set off over North Twin Lake
For more information about Phelps 4th of July festivities, visit the Phelps Chamber website.
Are you thinking about building or buying a second home in the Phelps area? North Twin Builders would be happy to show you how our quality makes the difference! Contact us today to build your custom home or complete your home remodeling or home addition project!