Land O'Lakes is getting geared up for a big day of fun! Saturday, July 26th will see great things happening all over Land O'Lakes, all day long!
Land O'Lakes Airport Day
Start your day off with a visit to the Land O'Lakes Airport for a tasty pancake breakfast and airport tour. Breakfast will be served from 8 A.M. to noon, and is free with donations appreciated. Check out the aircraft displays and make sure to catch demonstrations of radio controlled planes that all ages will be sure to enjoy! Land O'Lakes Airport Day will run from 8 A.M. to 4 P.M.. Bring a canned food item to donate to the local food pantry!
Art Impressions in Land O'Lakes, Wisconsin
From 9 A.M. to 3 P.M., Land O'Lakes visitors can browse a large variety of arts and crafts near the Land O'Lakes town hall, under the

beautiful pine trees. This is a great setting to shop wares by local artisans, and the perfect town for it, as Land O'Lakes is home to many great artists and crafters, as well as the LOLA Art Center. To satisfy your hunter, try a slice of delicious pizza from T.J. Grizzlies – this is truly a Land O'Lakes treat, some of the best pizza around!
Silent Auction & Used Book Sale at Land O'Lakes Library
Stop in the Land O'Lakes Library to browse used books of all kinds. Don't forget to bid on some of the silent auction items while you are there. The used book sale runs from 9 A.M. to 4 P.M. and will be sure to please all avid readers!
Land O'Lakes Live Entertainment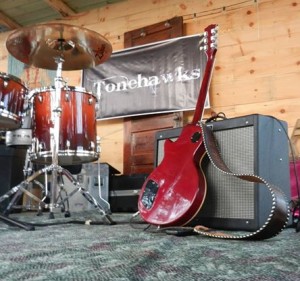 Finish this spectacular day off with live music at the new Twilight Supper Club from 8 P.M. to midnight. Enjoy the tunes of The Tonehawks, a local Northern Wisconsin 3 piece Rock & Blues band. This group loves to play the music that keeps people on the dance floor, so make sure to wear your dancing shoes!
For more information about the day, visit the Land O'Lakes Chamber website or find them on Facebook.
Considering a Summer Home in Land O'Lakes?
Land O'Lakes is a beautiful community, with wonderful local events and organizations making it very special. If you are considering building a summer home in Land O'Lakes, call North Twin Builders! We are a professional custom home builder and home remodeling contractor with a focus on quality. And make sure to check back on the North Twin Builders blog often to keep up-to-date on great local events and happenings!