The Eagle River Chamber and Eagle River Guides Association is getting geared up for the 34th Annual Guides/Kids Day, coming up on July 10th!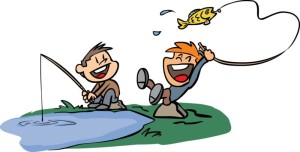 This is a great event for kids ages 7-12, with fishing seminars and a casting contest and all things fish. A random drawing will split the kids into two groups, with one going out on the lake with experienced, licensed guide to teach them the trade. The second group will head up to the Trout Hatchery in Watersmeet, Michigan.
Participants should register at the Vilas County Fairgrounds by 10:00 on Thursday, July 10th. This is a completely free event, with bag lunches, fishing gear, life jackets and bait all provided.
The Northwoods is truly a great place to build a home and raise your family!
Fishing events for kids are not only a fun activity, but help to create an appreciation of nature in today's youth. Kids can learn patience and hand-eye coordination while doing something they enjoy. Fishing helps children build confidence and self-esteem, and its a great activity for quality time with family.
And here in the Northwoods of Wisconsin, there are tons of opportunities for kids to connect with nature. With over 1300 lakes in Vilas County, this is the best fishing location you can imagine! Are you thinking about making the Northwoods your home? Call North Twin Builders to design your new custom home and for all your home construction needs! See for yourself how our quality makes the difference!