Summer is finally here in Eagle River, and we are all excited to hit the lake, catch some fish and enjoy those breathtaking views. Here are 5 ways for you to stay cool and save money this summer in Eagle River so that you can enjoy your summer to the fullest!
1.      Go to the Lake!
So this isn't necessarily a traditional energy saving tip or a way to stay cool, but trust us, this should be a step you repeat all summer long! The Eagle River area is blessed to have an abundance of fresh water lakes, perfect for swimming, boating, fishing and more. What better way to pass a hot summer day than on the lake?
AND heading to the lake can actually save you energy, as long as you turn off all appliances and lights and follow step 3 below. Have a cookout while you are there, and that's less time your oven will run. Instead of staying indoors with the air conditioning on full blast, cool off in the crystal clear water of one of Eagle River's beautiful lakes!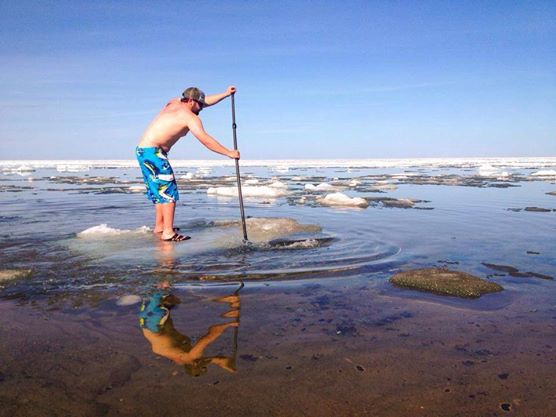 1.      Your Thermostat
Simply by raising the temperature of your Eagle River home's thermostat, you can save up to $100 this summer! Setting your thermostat to a comfortable 72 degrees keeps your home cool without overworking your air conditioner. If you are content with an indoor temperature of 76 or 78, go ahead and adjust! Your air conditioner actually dehumidifies your home, making higher temperatures quite comfortable.
A key way to save on energy costs is by installing a programmable thermostat. These are great for year-round savings, and allow you to program for a higher temperature when no one is home and when you are on vacation, without coming back to an uncomfortably hot house. Programmable thermostats can save you 12% on your home's cooling costs!
2.      Your Windows
As part of your routine summer maintenance, you should go around and check all of your windows. Making sure each window is sealed properly prevents the cool air from your A/C from escaping. This also is a great chance to notice cracks in the window casings or rips in your screens that will let in those pesky mosquitos!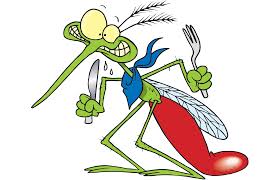 This Wisconsin State Bird is just looking for any chance it can find to get into your home. Keep it outdoors where it belongs by sealing cracks in your windows and replacing ripped screens.
A simple way to save is to make sure all windows stay closed on those hot days – it's easy to forget remotely placed ones! And open them up on cool evenings to take advantage of the cool fresh air. Your curtains or blinds can also help keep your home cool if you keep ones facing the sun closed.
3.      Your Ceiling Fans
Did you know that it can cost less than 50 cents a month to run a ceiling fan? Which makes it considerably more cost efficient that running your A/C as those summer temps are just starting to rise. Don't forget to change your fan's setting to rotate counterclockwise.
4.      Your Air Conditioning
By keeping your air conditioner clean and in good condition, you can make sure that it is running at full efficiency and not racking up unnecessary expenses. Schedule an annual maintenance with a qualified HVAC professional. See the next North Twin Builders blog for tips on how to clean your homes A/C.
5.      Your Landscape
Although this is not a task you can complete overnight, your landscaping can play a big role in keeping your home cool. Strategically planted shade trees can greatly reduce your home's sun exposure and help indoor temps stay cool. And don't forget to create a shaded area for your A/C's outdoor compressor – this can increase the efficiency by 10%!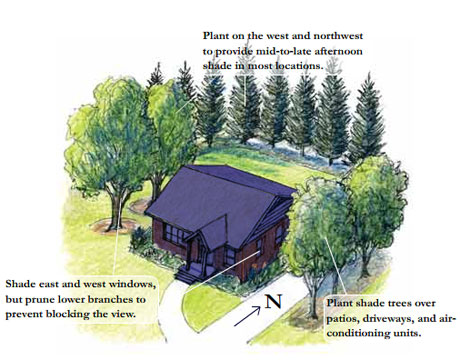 Looking for an energy-efficient home contractor in the Eagle River area?
Having your new custom home or home remodeling project completed by an experienced energy-efficient home builder can save you money for years to come! It also ensures that your indoor comfort level will remain high all year long. North Twin Builders is an Energy Star general contractor that takes pride in building energy-efficient homes using quality building materials and innovative building science technologies. See for yourself how North Twin Builders quality makes the difference!