North Twin Builders is constantly on the lookout for energy-saving tips for our readers, and this summer's number one way you can save is through your air-conditioner. Did you know that cooling costs amount to 8% of the total energy expenses around the country? Here in the Eagle River area, that is probably less as our summers don't tend to be scorching hot but energy consumption can still be cut down with simple attention and maintenance to your home's A/C.
Although there are several DIY steps to keep your Eagle River home's A/C running efficiently, North Twin Builders does recommend hiring a professional for an annual tune-up and thorough check. A HVAC contractor will perform at least the following things on a normal visit:
Check your A/Cs system controls and thermostat
Tighten all electrical connections and lubricate necessary parts
Ensure the condensation drain is working properly
Clean all A/C coils
Check refrigerant levels
Make sure blower components are working properly
If you aren't sure about self-cleaning your coils, or have any concerns about the electrical or motor components of your AC, it is time to call a professional. A good HVAC company that North Twin Builders has worked with frequently is Rogers Control. Homeowners can contact Paul Rogers by phone at 715-479-6919 or visit his website online. When in doubt, ALWAYS call a professional!
You can save yourself hassle by getting on the regular schedule of a professional HVAC technician so that you don't even have to remember to call and schedule an appointment. With regular service, you can save yourself costly repairs or replacements, which is well worth the initial expense!
Maintaining your Window AC Unit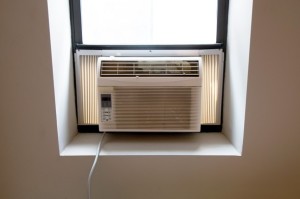 Window air conditioning units can be fairly easy to keep clean with regular attention. Any A/C cleaning starts with the filter. On window units, these can be removed easily and soaked in soapy water. Start by unplugging the unit (safety first!) and removing the grill with a screwdriver. Carefully remove the filter for soaking, and make sure to rinse thoroughly and allow it to dry before replacing.
To clean the coils of your window air conditioning, take the unit out of its casing. Spray coils lightly with a hose, a job better done outside, and then apply a natural all-purpose cleaner. Rinse and let dry before putting back together. To keep the coils clean throughout the summer, simply vacuum regularly. Without attention, debris and dust can build quickly and your air conditioner will freeze up.
Maintaining your Home Air Conditioning System
Clean is key to ensure that your home air conditioning system is running effectively and efficiently. Whether your Eagle River home has central air conditioning or a split or ductless air conditioner, there are parts that need attention both inside your home and out. The indoor unit, the evaporator, is typically located in your central duct near the furnace or in the air handler if you have a heat pump.
Carefully follow these steps to clean and care for your outdoor unit, the compressor:
Turn off the power to the A/C.
Check that there is adequate clearance around the unit. Cut back any shrubs or plants and brush away leaves and debris.
Clean the condenser coils carefully to avoid damage. Watch the video for detailed instructions. When debris collects on coils, it can block the air flow and reduce efficiency.
Watch for dark drips that indicate a leak, which would need professional attention from a contractor like Rogers Control.
Once you have properly cleaned the coils and the area around your A/C compressor, move inside to finish the job:
Replace your furnace filter if you haven't done so recently. It's recommended that you do this monthly, but you can visually determine when it's necessary. As with anything, if you spend the money to get a more quality filter, they need replacing less often.
Did you know…Clean filters lower your air conditioning energy consumption by 5 to 15%?
Vacuum the dust in and around the blower cabinet.
Clean the condensation drain – if it is removable, unscrew it and soak it in bleach water, rinse and dry before replacing. If it is not, you can flush it with bleach water and use a wire to make sure there is no blockage. A plugged drain can cause water damage and affect your home's humidity levels.
Check the refrigerant levels.
This chore can take anywhere from an hour to half a day, depending on how frequently you clean your A/C and how familiar you are with the procedure. Once you have completed these steps, turn the power to your A/C back on but don't run the air immediately. Depending on how long it was off, it's recommended that you wait up to 24 hours before turning the air on.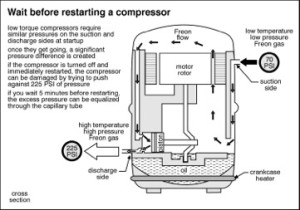 When you do turn the air on, step back outside to listen to your condenser. If you are hearing any odd noises or it seems louder than normal, it's time to call a HVAC company for repairs. Before you pat yourself on a back for being a responsible homeowner, make sure to add this task to your home maintenance checklist so that you will remember it for next year. And then celebrate by relaxing in your nice cool Eagle River home and take pride in increasing your A/C efficiency and decreasing energy consumption!
North Twin Builders Cares about Your Home!
North Twin Builders is a trusted custom home builder and home contractor in the Eagle River area. We believe it is our quality, attention to detail, and personal service that makes us stand out. We take pride in building beautiful homes that last, and we don't stop caring once your home project is finished! Follow North Twin Builders blog for useful tips and advice on how to care for your Eagle River area home, energy savings ideas, and more – all provided because we want to ensure that your homeowner's experience is affordable and enjoyable!