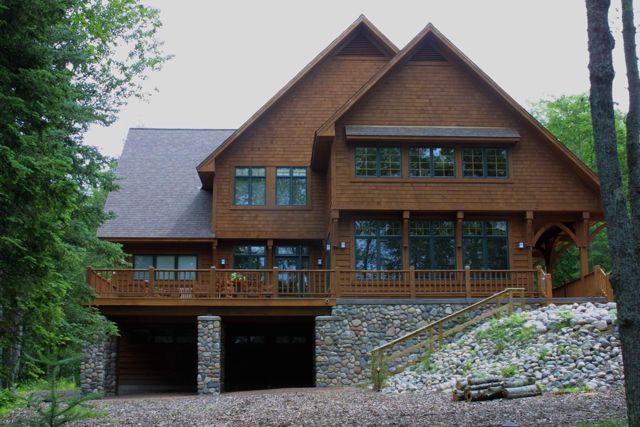 Build New Vs. Remodel, What's Your Best Option?
In all reality, for the price of a used home, you could get a brand new residence. On a per square foot basis, remodeling is often much more expensive than new construction but the decision to do one versus the other should not be based on construction costs alone.
Why is building a new home more cost effective than a whole house remodel?
There are several reasons but one of the most obvious is that when you are constructing a home from the ground up, you start with a clean slate. You gain huge efficiencies in scheduling because everything can be planned out in advance. First the foundation is dug and poured and then the walls are framed. Sheathing, roofing, windows, doors, siding and then the plumbing and wiring is installed. Insulation is next and then the wall studs are covered with sheetrock, etc.
On the other hand, when a whole home remodeling project is undertaken, the builder works in an existing structure which means walls must be removed before they can be rebuilt. If window and door locations are being changed, the old openings have to be closed up on the exterior and interior, and then new openings cut into the walls.
Work crews from the various trades are often difficult to schedule with some projects requiring several visits. Existing home problems (such as cracks in plaster or drywall or uneven flooring surfaces) may force the builder to make compromises to connect old and new portions of the house together. Many times design change means removing walls. And the challenge there is that you don't really know what's inside the wall until it's opened up. With remodeling you can always count on surprises and surprises cost extra money.
Reasons to Build New
·       Building lots are available in your neighborhood or a neighborhood you really like.
·       The cost of remodeling your home will surpass its resale value.
·       You want changes that cannot be added to your current home.
·       You want knowledge that your home is built using the latest innovations in building science.
·       New homes meet stringent energy standards and codes not in place in the past
·       You want to design your home to meet your needs – a used home was someone else's dream.
·       Most products that comprise a new home are under warranty
·       Cutting edge building products require less care and maintenance
Reasons to Remodel
·       You love your current neighborhood.
·       There are no available building lots in your neighborhood.
·       Remodeling is easier when there are few structural changes, making it a more reasonable cost
·       Your home has emotional attachments
·       You would rather spend the money on your home than on closing and moving costs.
·       Your neighborhood's property values are rising.
·       Your home value is not already at the peak for the neighborhood.
But don't think that building a new home is getting off easy- it is still a lot of work and the actual construction of your home is not the only cost you will incur. When planning your budget you'll need to include non-construction costs such as architectural, financing, closing costs and moving expenses.
Remodeling and building are both viable options. Consult with professionals before making your final decision so that you have a clear understanding of what you can expect to encounter.  Check out client testimonials and consider consulting an energy auditor before making your decision.
North Twin Builders prides ourselves on providing a comprehensive approach when building a custom designed home or when completing home remodeling projects. As a licensed energy-efficient contractor, we understand how important seeing the big picture is, and apply building science practices to create comfortable, long-lasting homes for our clients.