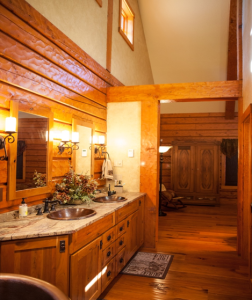 GFCI Receptacles Keep You Safe
At some point you have probably noticed small buttons on your kitchen and bathroom receptacles (outlets), but do you know what they are? These types of receptacles are called GFCIs or Ground Fault Circuit Interrupters.
How They Work
How do GFCIs work? If you drop an electrical appliance into water, things go bad quickly. Electricity surges into the water and down the drain pipe like lightning seeking ground. If you're in the water, your heart can go into fatal fibrillation. The flow of AC power is constantly being reversed. The GFCI reacts to a difference between what's going in and what's going out—so a GFCI trips when too much power flows through in relation to how much is returning not because of a net increase in power flow.  If the power isn't coming back, then it's going somewhere bad—in which case the GFCI cuts off the power.
A GFCI is not like a circuit breaker, which is designed to prevent fire and which works so slowly that it would never activate in time to prevent an electric shock injury. A GFCI, in contrast, reacts in 20-25 milliseconds, before the electricity has a chance to affect your heart.
Where Should They Be Located
In the U.S., GFCI's were first mandated in bathrooms. In most municipalities, they're now obligatory in kitchens, garages, outdoor and swimming pool areas, and even basement outlets because accidents can happen outside the bathroom, too. As an example of what can happen – you're walking in wet grass in bare feet, plug in an electric lawnmower, and accidentally touch the prong of the plug. Bad news.
Because many older homes don't have GFCIs installed, UL-approved hair driers have their own GFCI built into the plug. In Europe, where voltages are roughly double the United States', there are countries that don't permit any outlets in the bathroom, except the occasional very low power outlet to charge things like shavers. So you have to go to another room to dry or curl your hair.
Monthly Testing Ensures Continued Safety
You should be pressing the TEST button at least once a month on your GFCI receptacles. We suggest combining it with your monthly check of smoke alarms and alarm batteries. Press TEST, and the RESET button should pop out. If it does, the GFCI is working and you can press the RESET button back down. If the RESET button doesn't pop out, or can't be put back in, then you need to call an electrician to replace the receptacle.
When you press TEST, the RESET button pops out so fast that it looks like the reset button is popped by the force of the test switch being pressed. But there's no mechanical link between them: It's just that the GFCI works really, really fast.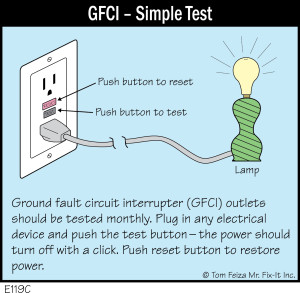 But don't forget – the safety  of your custom home, is only as good as the quality of the building and installation. Always make sure to choose professionals that pay attention to every detail, like North Twin Builders. Ready to choose a builder for your new custom home? Give North Twin Builders a call today and discover how our quality makes the difference!