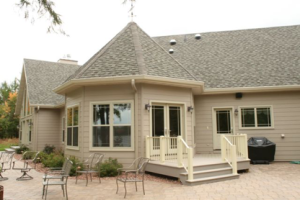 Time To Think About Screen Replacement
Spring is within reach, and that means checking your Northwoods home for necessary repairs. One thing that homeowners often forget to check are the window screens. Luckily, screen replacement is a fairly easy do-it-yourself home maintenance task.
Sometimes, the splines – the black rubber strips that hold the screen into the frame – can get weather checked, especially if you have areas prone to road salt. The splines might just be old and cracked, or the screen may have developed some holes. It's a relatively easy fix as long as the frame is still good. All you need is new screen material, rubber spline, and a spline roller.
Choosing Your Screen Materials
Fiberglass screen is flexible and easy to use – if you make a mistake you can take it out of the frame and try again. Aluminum screen is sturdier, but you only get one chance to get it right. There is also a third option – sun-shading fabric, which blocks more sun and means less load on your air-conditioner and less fading of your carpet, drapery and furniture. Sun-shading screen fabric is also stronger than fiberglass and aluminum, so it is a great choice for pet owners.
How To Install New Screen Material
First, remove the screen from the window. It usually pops easily out or could be held in by clips. Then, placing the screen on a flat surface, remove the old rubber spline using a screwdriver or other small tool.
Next, take the old screen material out. Lay the new material over the frame, making sure it goes beyond the grooves, and use the spline roller to roll the new spline into the groove. All that's left is to trim the excess material and pop the screen back in to the window.
Be Prepared
Before you go to your local hardware store to buy the screen, it is a good idea to measure out how much screen you will need and get a few extra feet, just in case there are mistakes in your work – this may save you added trips to the store.
Another good idea is to make a center support, if your screen frame is taller than 36", to keep it from bowing in once the material is in place. You can make one out of aluminum frame stock, which is located near the screening supplies in most stores. The aluminum stock can be cut and trimmed to fit.
A Helpful Tip from your Northwoods Home Builder
If the screen tension is too tight, the aluminum sides can bow in. If the screen tension is too loose, the screen will sag. To get it just right: after rolling in the screen on the first two adjoining sides, place a brick or similar object in the center of the screen to create the proper amount of slack. Continue installing the fabric along the third and fourth sides of the screen frame. Make sure you check all the windows and screen doors on your home and other buildings before those bugs show up and start trying to get inside. You will be glad you did!
Want to hear more do-it-yourself tips for Northwoods homeowners? Be sure to follow along with North Twin Builders on Facebook for fun home decorating ideas, remodeling suggestions, and home maintenance tips!