Northern Wisconsin Ice Dam Long-Term Solutions
In parts 1 and 2 of this blog, North Twin Builders discusses the causes and short-term solutions for ice dams.  When your homes heat escapes through the roof, it melts the standing snow and forms an ice dam that has the potential to do serious harm. Most of the short-term solutions are focused on the external factors of ice dams, like snow and ice. Why not focus your attention on the one factor that you can control – your home. Instead of wasting your time and money, North Twin Builders recommends getting to the root of the problem and going for the long-term solution. There are two ways you could do this –
Long-Term Solution #1 – Build your home right in the first place!
This could be seen as prevention instead of a solution. However, it deserves discussion. Too many new homes are built just to code, and are not designed to withstand Northern Wisconsin's climate. By applying building science techniques, an experienced home builder can prevent ice dam problems from occurring in the first place. There's no better solution than eliminating the possibility of a problem!
If your home is not properly air sealed, you will be plagued with ice dams every year! Good insulation and proper ventilation are also important, but if heat isn't leaking out of your home, your insulation won't be put to the test. Also, a well-sealed home will increase your level of comfort and decrease your heating bills.
The whys for having your home built right are endless. You may be concerned about the original expense of building – you may pay slightly more initially but you are going to save money EVERY YEAR with an air sealed home! Your home is a long-term investment so it's important to see the long-term, big picture. Why not prevent future expenses and hassles?
Long-Term Solution #2 – Hire a professional contractor to fix the problem!
Don't waste time and money trying out the Band-Aid techniques laid out in Part 2 of this blog. Most don't work well, you risk more damage to your home and broken bones, and they don't FIX THE PROBLEM! No matter which Band-Aid, it will have to be reapplied throughout the whole season, and then you will be faced with the same dangerous ice dams next year. Why bother?
As soon as you realize you have an ice dam issue, call a licensed 'truly professional' roofing contractor to eliminate the internal factors. An experienced professional can get rid of the problem once and for all, without causing any disruption to your life. After removing the roof sheathing and present insulation, a good contractor will spray foam onto the interior surface to prevent air leakage. Your home's heat will no longer be warming your roof and melting the snow. A cold roof means no ice dams!
Beware of contractors that look to solve your problem by simply adding insulation or ventilation. Although poorly installed insulation and lack of proper ventilation are often an issue, controlling air leakage should be the first priority. Even the insulations with the highest R-values don't work as well as the outside temperatures drop.
The whys for fixing the root of the problem are similar to the reasons to build your home right in the first place. You are no longer faced with a reoccurring ice dam threatening your home. The temperature inside will be more comfortable, and your furnace won't have to work as hard to maintain the heat. You will notice a significant drop in your heating bills immediately. A properly air sealed home can reduce propane usage by a full 500 gallon tank a year! With the price of propane hitting a high of over $6.00 per gallon this year, this could mean almost $1500 in savings for heat in just one year. That puts the expensive of hiring a roofing contractor, the only reasonably why not, into perspective!
Skip the Band-Aids – Get rid of ice dams permanently!
Don't take our word for it, check out this great resource abou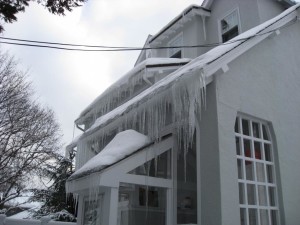 t ice dams!