Your roof plays an essential role in protecting your home from the elements, and when your shingles start to deteriorate, your home becomes vulnerable. The last thing you want is to discover a leak in the middle of the winter. Which is why now is the perfect time to inspect your roof for damaged or missing shingles. If only a few shingles need to be replaced, you may be equipped to perform this task yourself but more extensive repairs should be left up to a professional roofing contractor. Either way, attention now can extend the life of your roof, saving you money in the long run.
Identifying Damaged Shingles
The first step to preparing your roof for the Northern Wisconsin winter is inspecting it for signs of visible wear and tear. Remember that safety should be your biggest priority, as any time you climb a ladder and get up on your roof, you are risking serious injury. Choosing to have a professional inspect your roof is always the safest option! And, although you may be able to spot a damaged shingle, larger problems are often visually undetectable.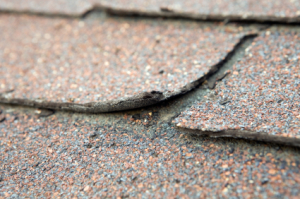 You can tell if a shingle needs to be replaced by its appearance. It will look brittle and dry, and could be curling or even crumbling. Buckling shingles have visible waves running vertically, which tends to indicate a larger area of damage. If the shingles are curling or buckling, they could easily be ripped off by the wind, leaving an unprotected area on your roof and potentially causing further damage to surrounding shingles.
Replacing Damaged Shingles
It's important to choose the right type of day when replacing shingles. A windy day not only endangers your safety more, but complicates the task at hand. If it is too hot, the sealant holding the damaged shingle is harder to break free and new sealant won't hold properly. If it is too cold, the shingles can crack easier. And you definitely don't want to be up on your roof if it is raining or snowing!
All you need to complete your Northern Wisconsin home shingle repair is some new matching shingles (keep a few extra around for quick repairs), a ply bar, hammer, shingle nails and some sealant or cement glue. Make sure your ladder is secure, and always wear protective gear when working on your home. To replace damaged shingles:
Remove the damaged area of shingles – Use a pry bar to gently lift up the row of shingles above the damaged one to expose top row of nails. Pop out each nail carefully, at a slight angle, and place aside carefully. Then use the pry bar to push the loosened shingle up.
Clean the area – scrape the opening clean of loose cement to ensure a good stick.
If shingles have adhesive strip, remove the covering and push into place. If it doesn't, use a spot of cement under each tab. Slide the new shingle in, with front edge aligned with shingles on either side, and the back edge underneath the row above. Press down firmly.
Nail the center first with four roof nails in a row, about a half of an inch from the old holes. Then nail the top, through the shingles above, ensuring a secure fit.
While you are on the roof, check for any loose shingles that can be secured with a spot of the sealant.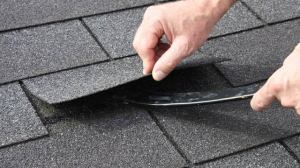 If you notice signs of curling or slight damage on shingles surrounding the one you are intending to replace, it's best to go ahead and replace all the shingles in the damaged area.
Call a Northern Wisconsin Professional Roofing Contractor
Replacing a worn shingle on a roof that needs serious repairs is like putting a bandaid on a head wound – it may slow down the problem, but it won't make it go away. Even the proficient do-it-yourselfer should call a roofing professional to inspect their home's roof annually. This can prevent a small problem from becoming one that will require an entire roof replacement. And a good roofing contractor can often alert you to an issue early, which can protect your home from water damage, heat loss and more.
For a professional roofing contractor in Northern Wisconsin, contact North Twin Builders. We are happy to inspect your roof, diagnose potential problems, and perform necessary repairs. Don't wait until it's too late – schedule your roof inspection today!
Contact North Twin Builders, Your Quality Roofing Contractor in Northern Wisconsin!