Vilas County has so many unique offerings, and one of these is the natural resources educational facility, Trees for Tomorrow, in Eagle River. This specialty school sits on 30 acres of forested land, and provides a variety of workshops, classes, and events for all ages.
Trees for Tomorrow was established in 1944 as a non-profit organization committed to reforesting Northern Wisconsin behind the booming lumber industry and educating the public about the importance of land management. In the 1950s, the organization built the school and facility that attracts residents, school groups and visitors today.
The property includes 4 lodges and a dining hall, classrooms, and meeting spaces of various sizes. Each lodge is available to rent, and features a common room complete with a fireplace in addition to sleeping space. This is unique place, perfect for family reunions, corporate retreats, and any kind of special event.
Trees For Tomorrow hosts a variety of workshops and classes throughout the year, including school workshops, Scout weekends, and Natural Resource career workshops. Throughout the summer, visitors can enjoy nature activities and educational classes, as well as an interpretive hiking trail through the 200 year old Demonstration Forest.
The school is supported by annual memberships, donations, and the fees from the programs. To learn more about Trees for Tomorrow, how to become a member, and a full schedule of events, visit them online at www.TreesForTomorrow.com or call 715-479-6456.
Build a Life in Eagle River with North Twin Builders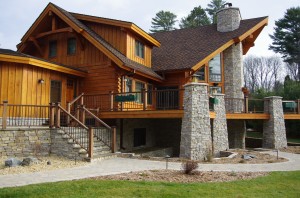 Eagle River, and all of Vilas County, has so much to offer to local residents and area visitors alike. With the Eagle River Chain of Lakes, fantastic snowmobile and hiking trails, unique shopping opportunies and the tireless dedication of wonderful organizations like Trees For Tomorrow, Eagle River is a great place to build a life and raise a family.
And North Twin Builders is here to help! Ready to build the custom home of your dreams? Choose North Twin Builders for a quality contractor you can trust! With our knowledge of energy efficient building practices and decades of experience, your new custom home will be built to the highest of standards, ensuring comfort and savings for years to come. Contact North Twin Builders today to get started on your Eagle River new home!