As the leaves begin to turn, now is the time to prepare your home for the coming winter. Check your windows and doors, inspect your roof for potential leaks and get out the pressure washer. Although many people think of cleaning their homes exterior in the spring, fall is a great time to do this maintenance task. Whether you choose to do this chore yourself, or hire a professional contractor, make sure to get the job done before the temperatures get any lower!
Why Pressure Wash Your Home in September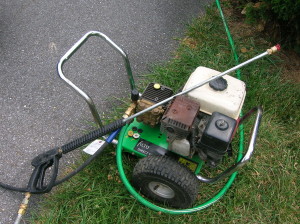 Just like your car needs routine cleaning, so does your home. Yearly pressure washing gets rid of the accumulated dirt and grime from your home's exterior, keeping it looking bright and attractive. It's also preventive maintenance, as mildew build up can eat through your home's paint and even weaken the wood. If you plan on painting your home's exterior, pressure washing is an important step to remove the dirt that will interfere with the paint's performance. And if you are thinking about selling soon, you want your home looking its best!
Pressure washing your home in the fall gets rid of all the summer grime that sticks to the exterior of a building. Cleaning on a hot, sunny day can leave dried detergent, which is harmful to the paint. And trying this task on a very cold day is impractical and could amount to a house covered in ice! Choose a cool, cloudy day without much wind for ideal washing conditions. And because dirt accumulates the most during the summer months, pressure washing in the fall means longer times in between needed cleanings!
DIY or Call a Professional to Pressure Wash?
To clean your home's exterior properly, you will need a good pressure washer. You can buy an electric model, which averages about 1,200 pounds of pressure for roughly $120. A gas model with 1500 PSI (pounds per square inch) can be found for about $220. But how much pressure washer do you need? More is not better when it comes to power washing your home because too much pressure can damage your home's exterior.
Considering that most homes only need an exterior cleaning once a year, renting a power washer may be a better option than buying one. The local Home Depot offers models with varying PSI's to suit your needs, and can be rented for about $50 a day. Or consider calling a professional contractor to ensure a job well done without taking the risk of damaging your home's exterior or accidentally breaking a window.
It's also important to consider the safety aspects of pressure washing. Do you want to be up on a wet, soapy ladder? Proper cleaning of your home's exterior can be difficult, especially if your home is more than one story, and dangerous. Leaving it to a professional, like North Twin Builders, protects both you and your home!
Tips on DIY Home Exterior Cleaning
If you do choose to clean your home's exterior yourself, remember to read through the instructions in the pressure washing manual to ensure you can operate the machine properly. Here are some tips for a successful and safe power washing:
Dress appropriately, with good shoes and eye and ear protection for safe cleaning.
Avoid high pressure sprays that can peel the paint. Similarly, don't hold the hose too close.
Avoid spraying upward along the building.
Work in small sections to prevent detergent from drying.
Apply cleaning solution from the ground up and rinse from the top down.
Watch out for windows, exterior vents, and electrical service areas.
Be aware of nearby plants that could be harmed by the cleaning solution – consider covering before you start.
Choose a general purpose cleaner without bleach to protect your landscape and home.
Where mildew is present, scrub with a trusted mildew remover and rinse thoroughly.
Spray out your gutters while you are at it, and don't forget your decks and parking areas.
Enjoy the beauty of your freshly cleaned home!
North Twin Builders Can Help Prepare Your Home for Winter

If you are looking for a professional contractor to clean your home's exterior, give North Twin Builders a call! We can help with every step of preparing your home for the coming cold and snow. Our thermal imaging services can identify air leakage areas of your home that will cost you extra money in utilities, as well as affect your home's comfort levels. Or give us a call to inspect and repair your roof before the snow flies! No matter your home construction and maintenance needs, North Twin Builders is here to help! Contact us today for your Northwoods home project!