Every year, we see gadgets and technology getting 'smarter'. This is a trend that the world seems to love, including us Wisconsinites here in Vilas County, as people race out to upgrade to the newest technology in phones, TVs, computers, and any electronic product imaginable. But did you know that 'smart' homes are a leading trend as well?
Home automation systems and enhanced home gadgetry is growing like crazy, and the craze isn't just for millionaires. Some of the new Smart Home options can be quite affordable, but the topic still raises hairs for many people. Is this necessary? Are people getting dumber as a result? Are we getting lazy? Or does life have enough daily complications that Smart Home features and smart gadgets keep us sane and life manageable?
Love It or Hate It? North Twin Builders Want To Hear!
North Twin Builders is interested in your opinion on Smart Homes – love it or hate it? The topic we are presenting today is Smart Locks. Keyless entry via lock keypads installed on your door may not be new, but the enhancements this home feature are seeing is incredible. The companies producing the new Smart Locks claim they are safer and easier to use, but it is too early for this to have been fully verified. Would you trust a Smart Lock with your homes security?
To help you explore this issue, we have put together a list of 5 Smart Locks on the market today.
Lockstate
Features: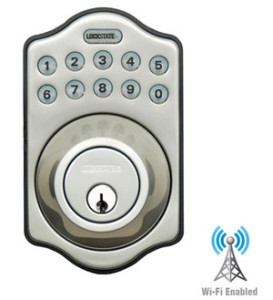 $249.95, with $0.99 monthly fee for basic service and $0.99 upgrade to premium service
Variety of models with lock keypads and key remotes available
Wi-Fi connected means you can use your smartphone to unlock from anywhere
Schedule access for whoever you want, with determined limitations
Sends text alerts to notify you when your home is unlocked or access is made
Can integrate with other home devices, such as your thermostat, motion sensor, and video surveillance
This all sounds pretty good, and North Twin Builders read several positive reviews about Lockstate products. All users agree that it is easy to install, and although this is the most expensive product, quite affordable. Which of these features attract you and which raise concerns?
Goji Smart Lock
Features: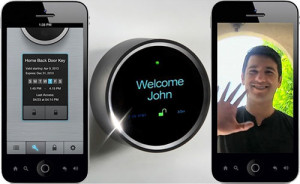 $245
Allow access to guests or staff for specific times
Connects with your smartphone to allow you to lock or unlock your door from anywhere
Bluetooth fobs work like car remotes with handy clip-ons for the kids
24/7 Customer service and easy self-installation
Unique feature: This Smart Lock takes the next step and includes a camera that sends and records pictures of visitors to your smart phone
This seems like a parents dream – see your child coming home from school and following rules! The customer service feature would be helpful, but raises the question of why you would need to call? At this time, North Twin Builders couldn't find any helpful reviews for this product. What do you think of the photo feature?
Yale Key Free Touchscreen
$200
Illuminated touchscreen keypad
Scheduled access option and entry recording
Easy installation and voice-guided programming
Model without keyhole means that your lock can't be picked or forced
This product has quite a few positive reviews, and a lock without a key hole would be great for home security. However, it does run on 4 AA batteries – would you be willing to change batteries on your Smart Lock?
August Smartlock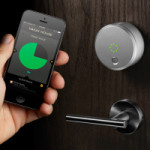 Features:
$200
Replaces deadbolt with just a 10 minute installation
Auto locks behind you so you don't have to remember to lock up
Scheduled access with log of entries
Sends notice to your phone and email when batteries are low
No keys or codes – this Smart Lock recognizes your smart phone as you approach and automatically unlocks for hands-free access
If you love that your smart phone can do just about anything for you, this is the lock for you! The product includes back-up options in the event you lose your phone. However, this product is not technically out yet, although you can pre-order it online – which may not be the best idea! This sounds neat, but it may be smarter to wait for an actual product with reviews available. How do you feel about your phone unlocking your home's door for you?
Lockitron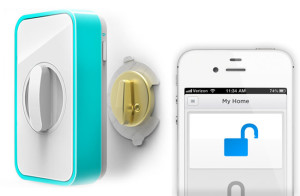 Features:
$179
Built in Wi-fi and long-life batteries to prevent entry complications
Hands free remote access and smart phone sensor unlock with certain phone models
Smartphone app allows you to check if your door is locked, lock or unlock from anywhere, and schedule access
Customizable settings allow for options like sending you a text when kids get home
This product is seeing a lot of positive feedback and interest, even though the company is behind on shipping pre-ordered Smart Locks. The motion sensor feature may be having some problems, but the company is active in responding to problems and seems to be continuing to improve their product.
How much do you expect from your home's lock?
The question is definitely not how much you can expect! With a Smart Lock, you can get everything from motion sensor access or Bluetooth remotes to text or photo alerts. What do you think about this technology? Are you jumping out of your chair to get your own new Smart Lock or is this a trend you are going to pass on? Let us know your thoughts by commenting here on the North Twin Builders Blog or finding us on Facebook.
North Twin Builders – Your Trusted Vilas County Home Builder
Here at North Twin Builders, we make sure you have all the options and information you need for your new home project. With our knowledge of building science and home energy-efficiency techniques, you can be confident that your custom home is built to the highest of standards!
Looking For a Quality Home Builder in Vilas County? Contact Us Today!