Adding an attractive garage is a great way to increase the curb appeal and value of your Vilas County property. But when it comes to planning for a new garage, make sure to consider the long-term purposes of the building. And choose a garage contractor who is capable of designing it to be visually complimentary to your home, as well as functional and efficient!
Designing a Functional Garage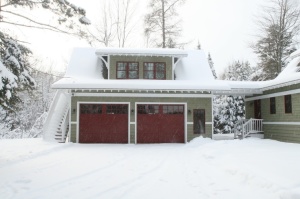 The first thing you are likely to consider when planning for a new garage is the size. From one car garages to four cars and more, North Twin Builders can design your garage to fit your needs. But don't forget about added functionality for the space!
How much storage space do you need? Do you have a boat that will need to be stored in the off season, a lawn mower or snow blower, or sports equipment? A good plan for shelving and storage space can help you keep your garage organized and functioning well in the future when you address it realistically in the early stages of design.
How about work space? Do you regularly service your vehicles or equipment yourself? If so, you are going to want the elbow room to do so, as well as a place to keep your tools ready at hand. Do you have a hobby that is best served outside of the home? Work with your garage contractor to ensure that your garage is ready for anything that comes its way.
Plan for a Future Bonus Room
Because North Twin Builders understands that budget is always a factor, we recommend flexible garage designs to allow for a bonus room. Even if you don't want to finish the space with the initial construction, you will still enjoy added storage room. We can always come back in later, as your budget allows, to turn the space into whatever you would like.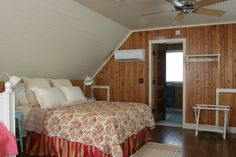 A bonus room really increases the functionality and value of a garage, and the potential for these spaces is practically unlimited. Whether you are looking for an artist studio or a private hobby room, a kids playroom or even an apartment or guest room, you won't regret this decision. After all, no one ever says "I wish I had a smaller garage".
Naturally, there is a bit of added expense to finishing a garage bonus room, depending on the purpose of the space. If it's intended to be a living space, it will have to meet a higher level of building codes, and will need additional plumbing and heating elements. If your garage is attached to the house, you may want to consider an entrance directly into the space for easy access. But you needn't worry that a garage bonus room is out of reach, as it adds little to the original cost of building a new garage.
A Trusted Vilas County Garage Contractor
As a professional garage contractor in Vilas County, North Twin Builders is ready to build you the garage that will best suit your needs. We can often suggest creative storage ideas, ways to repurpose spaces, or increase performance in existing garages for a garage improvement project.
And the best part – we know that aesthetics matter, too. Garages need not be unattractive sore thumbs on your property. We design these buildings to flawlessly blend with your home's exterior design without sacrificing the quality of the construction. Have questions about the cost or possibilities of a new garage or garage improvement? We would be happy to help!