The great thing about building a new custom home is that the homeowner has so many choices when it comes to the design and features of the home. Whether you have been dreaming about a beautiful stone fireplace, luxurious custom hardwood floors, or an elegant vaulted ceiling, the sky (and maybe your budget) is the limit when it comes to custom home features and details. And although your budget comes into play, a quality contractor can guide you through the design process, suggesting areas that cost could be kept down to allow room for the features you really love.
One such custom home feature, the vaulted ceiling, is a great option no matter the style of new home. A vaulted ceiling, or cathedral ceiling, can be designed in many different ways to fit different budgets. There are naturally both pros and cons, but an experienced builder can significantly reduce the potential cons of this building feature.
Choosing the Details of your New Home Ceiling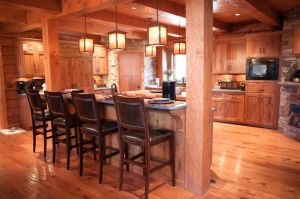 A standard ceiling is typically 8 feet high, either flat or textured. Although one could choose a beam, tile or painted look for a standard ceiling, you are not limited to these choices with a new custom home. Vaulted ceilings can be built anywhere from 10 feet high to 30, all depending on the home. It could be simply raised with minimal slope, or be sloped at a high angle.
Without taking the leap to a full vaulted ceiling, one can still create a detailed, attractive presentation. For example, layers of crown molding (think upside down steps on your ceiling) or tray ceilings are eye-catching and add dimension to a room. A cove ceiling, which is a rounded surface, can do wonders for entryways or to add interest to connecting spaces. Vaulted
ceilings, though, are likely the most popular way to add detail to this part of a new home.
This new home feature works well in a variety of rooms, although most requested for great rooms or living rooms. They are becoming more popular for ground floor master bedrooms and master baths, and add grandeur and awe to a well-designed dining room. Cathedral ceilings can work well in any style of home, with the height depending on the overall design. Many of the cathedral ceiling home designs that North Twin Builders have created are well complemented by a loft area overlooking the space.
Pros & Cons of Vaulted Ceilings
When deciding if a vaulted ceiling is right for your new custom home, weighing the pros and cons can be helpful, although it really comes down to your personal taste preferences and the skill level of the home builder. Let's explore the benefits that high ceilings bring.
Make a room appear larger than it is, creating a roomy, open feeling.
Ability to incorporate unusual details, such as highlighting log beams.
Impressive home feature, often considered luxurious and elegant.
Allows for creative decorating, such as displaying a treasured tapestry at a high level or tiered art arrangements.
Opens up many options for lighting, including recessed lighting, track lights, wall lights, sky lights, or a layered scheme combining several different types of lighting.
Can add up to 25% to the resale value of a home, a selling point that buyers are drawn to.
Well-paired with skylights that make the room seem even more open and inviting.
When included in a master bath, can help control moisture issues.
It's hard to argue against the visual aesthetics of a vaulted ceiling, but this isn't the only factor to consider. Potential cons include:
Can increase energy usage because heat naturally rises, and so hovers in the vaulted area.
Challenging to clean such high areas of a home.
Added expense to building costs.
We say potential cons because your new home contractor can have a major impact on most of these. When building a vaulted
ceiling, extra attention needs to be given to proper ventilation, insulation, and long-term building performance. For example, installing a ceiling fan can combat the rising warm air, circulating it back down to the areas that you need the heat. Quality building techniques, best use of materials, and a well-thought out design can combat these, leaving you a stunning room without performance and energy use concerns.
Vaulted Ceilings & Your New Home Construction Budget
The added expense of a vaulted or more detailing ceiling need not be as big as one might think. It is most cost-effective when integrated into a new home or home addition design, as opposed to during a home remodeling. It all depends on the amount of detail and the materials used. A 13 foot high ceiling could add as low as 10% to the building cost of that specific room, or a highly detailed, two-story beam style cathedral could add as much as 30% – 50% to the room's construction expense. Working closely with your new home contractor is the best way to fit a vaulted ceiling into your construction budget.
North Twin Builders – Your Vilas County New Home Design/Build Contractor
With our years of experience and building science knowledge, North Twin Builders is well-equipped to design new homes with cathedral ceilings. We understand the building techniques necessary to reduce the cons of this home feature, and are able to design it to be as visually attractive and detailed as possible. Because we build to your budget, a vaulted ceiling need not be out of reach. Visit North Twin Builders on Pinterest to browse examples of our quality custom homes in Vilas County and surrounding areas.