Garages are often the most ignored part of a property. The fact is that, especially in a climate like in Northern Wisconsin, garages are an especially important property element. And if you are considering selling your home, the presentation of this space could sway a buyer or turn them off completely.
There are several things that can be done to improve your garage's appearance and efficiency, and not all of these steps need be hard on the wallet. Ready for a brand new or enlarged garage space? Give North Twin Builders a call for an experienced garage contractor, offering new garage construction throughout Northern Wisconsin and select areas of Upper Michigan.
1.      Replace Garage Doors & Windows
This first option is the most expensive, and one that would likely require calling a professional. However, your garage door can significantly affect the curb appeal of your property. This is especially true if the building is older, and the opening system is malfunctioning or insufficient. Beyond appearance and function, the door is a security function that should protect your belongings from potential theft or vandalism.
The same could be said for your garage windows. Although we may be quick to replace a window in our home, broken garage windows can be easily ignored. This not only sends a bad signal to potential buyers, but can make the space less inviting for yourself and cause interior issues such as mold, high moisture levels and insect infestation. Replacing old doors and windows may be a bit costly and take some time, but the return may well be worth it.
2.      Finish the Floors of Your Garage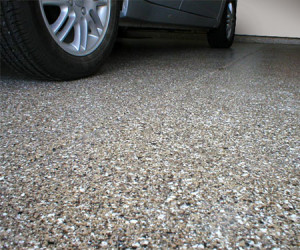 Again, we routinely clean the floors in our home but the same attention is not always applied to the garage floors. In fact, many older garage floors are simple unfinished concrete that happily soaks up oil and stains. Many have never even seen a broom.
Painting the floor can help to repel stains and present a prettier picture, but paint isn't always effective against the conditions your garage faces. An alternative solution is to have an epoxy finish applied to the floor. This resists oils well and won't wear off like a regular paint. Similar to garage doors and windows, this is an improvement that can cost but will create a cleaner, more attractive space for a very long time.
3.      Paint the Walls
If you are a do-it-yourselfer, use your garage as a hobby space, or spend any amount of time in there, you may want to consider painting the walls. This simple and cost-efficient step creates a more inviting, more finished feeling space and is something you can easily do yourself.
Before painting, be sure to dust and wash walls thoroughly with a degreaser so that the paint will stick well. Depending on the structure, you may want to select an exterior paint that will hold up to the elements and grime. Add depth by choosing one color for the walls and another for cabinets and shelves. Make it more homey by stenciling a family motto or welcome on the wall across from the door.
4.      Add Lighting
How well lit is your garage? It doesn't help to have an attractive, comfortable space if you can't see it! Lighting can make a huge difference in a garage, especially one that doesn't have good natural lighting from windows. Incorporating different types of lighting is best for work spaces. Try adding fluorescent lights to the undersides of cabinets, pick up some clamp on lights for portable ease, and use beam lights that you can shift the direction of for maximum exposure.
5.      Clean!
Deep cleaning your garage is an inexpensive step to garage improvement, and although you may cringe at the work, the results are well worth the effort. The build-up of dust and chemicals that the average garage collects are not only unpleasant to look at, but can affect the air quality of the space and potentially your health.
Invest in an oil and grease absorbent, some heavy duty floor cleaner and a push broom. Give the floors and walls a good sweeping and sprinkle the absorbent onto any stains on the floor to leave on overnight. Sweep it up in the morning and then use the push broom and the heavy duty cleaner to scrub it down. Hose the floor off when you are done. And don't forget to wash the windows to let in a little light!
6.      De-Clutter & Organize
Garages are like junk drawers; they tend to collect all of life's little extras that don't quite have a place. Plus, they are working spaces, with items constantly shifting around and toys and bikes coming and going. All the more reason to keep an organized area that is ready for your use!
The best place to start is by moving everything out. This will give you a picture of the actual space you have to work
with. This is also helpful in deciding what needs to stay and what needs to go. With fall approaching Norther Wisconsin and winter snow not far behind, now is the time to bring those boxes of old belongings to Goodwill. Be sure to properly dispose of any old paints or chemicals in a safe manner.
Then, try to map out the space on paper. Block out footage for big items, such as mowers or snowblowers, making sure to consider easy access. Start with a plan for the underused ceiling – could you add a ceiling rack for bicycle, ladder and sports equipment storage? Then move on to the (newly painted) walls. A combination of cabinets, shelves and hooks, with labels, can help you keep the space tidy in the future.
Want some storage inspiration? We found some pretty helpful pictures from Listed & Loved and DIY & Crafts.
Is a New Garage in Your Future?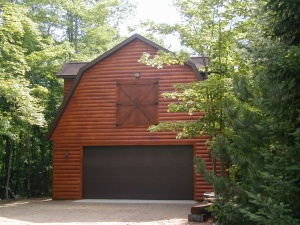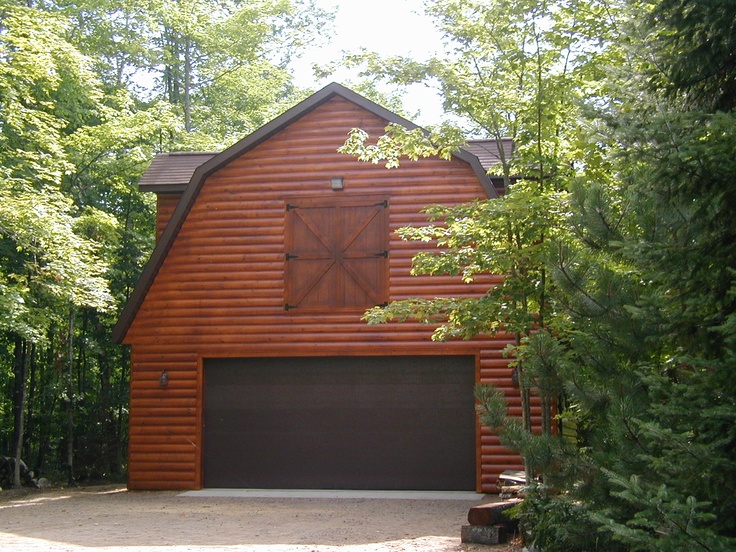 Sometimes, it takes more than a new window or creative storage to improve a garage. And sometimes, there simply isn't enough space for your purposes. If so, choose North Twin Builders to design and build your new garage. With decades of experience and an eye for detail, we custom build quality garages that are high performing and attractive. Give us a call today at 715-545-2510 for a free estimate!