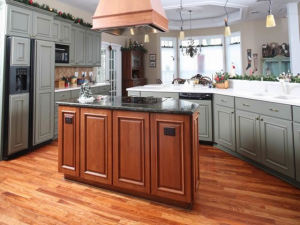 One of the most frequent complaints of homeowners is lack of storage. And of all the rooms in a home, the kitchen is often the biggest challenge. Between appliances, food, spices, and dishes, it can be difficult to fit everything you need into an existing kitchen. The best solution to beat the challenge of kitchen storage is to hire a professional contractor to build your new home to fit YOUR storage needs.
Undergoing a kitchen remodeling is also a great solution, as an experienced contractor can often present creative uses of underutilized spaces. This can result in more storage without increasing the square feet of the room. Whether you fit in new storage arrangements with a remodel or are just looking for fun DIY kitchen storage possibilities, North Twin Builders is happy to share some great ideas for you!
Kitchen Storage: Small Appliances and Cooking Ware
Did you know that the average household has more than a dozen small appliances, some over 25? Think about how much space that requires! That's before even considering the different pots, pans, baking dishes, cake pans, muffin tins, etc. But how to store all of this cookware and many appliances?
One great option is to integrate a kitchen island into your remodeling project. This gives you extra storage space, as well as sitting room. Hanging pots and pans on a rotating rack above the island is a great use of space for a cozy and convenient kitchen storage method. Or add a sliding out rack with hooks to a cupboard to free up room and store pots and pans in a nice organized way.
For appliances, the majority are often kept on the counter, which makes some kitchens feel cluttered, reducing preparation areas. With a little bit of rearrangement, you could make a space in a cupboard for items like a microwave, where it would be out of view but still accessible. Or building a frame around your refrigerator with a cupboard space above allows use of an often underutilized space.
Organizing Your Kitchen's Small ware, Dishes & Glassware
Plates, bowls, glasses, and various small wares add up quickly in a home, leaving you constantly rearranging kitchen storage to make it all fit. One creative idea to present wine glasses and other stemmed glassware is to transform a rake into a wall decoration for easy hanging and a rustic look. Another fun idea is to repurpose an old soda bottle crate and hang on the wall to display glassware.
How about adding a magnetic strip to the bottom of a cupboard? This space is one that sees very little use, and you could keep ladles and spatulas ready at hand here. Don't like the standard method of stacking plates and bowls in a cupboard? Store dishes on a vertical rack, or recreate a deep drawer with dividers for plates.
Storing Spices for an Efficient Kitchen
Spices can quickly take over a kitchen and make it appear disorganized. If you are looking for fun ideas for storing spices, you can find tons of great ones just by browsing Pinterest, Bobvila.com, Houzz, and other websites. These are also handy tools for preparing for a kitchen remodeling project. Here's some interesting spice storage ideas that we found: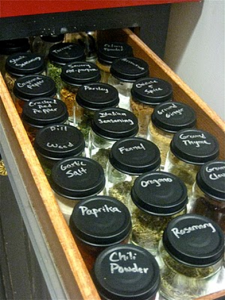 Pull out, narrow cabinet rack – North Twin Builders has created these for several of our custom home kitchens, and they are very neat and orderly.
Utilize the back of your pantry door with a hanging wire rack or a thin shelving unit.
Do the same with a cupboard door that has room to spare. Very affordable storage possibility with practically no time or work required!
Add a shelf above the stove, or consider using magnetic strips with magnetic jars.
Use an empty drawer to neatly organize spices.
Put spices in labeled baby food jars to be able to easily stack in a cupboard.
The vintage soda crate idea for glassware would also work well for spices.
Find a Fresh Perspective with North Twin Builders
When it comes to kitchen storage and organization, it all comes down to what works best for your space and your storage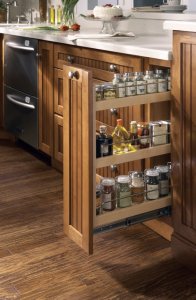 needs. Consider how you use your kitchen, and keep items that you frequently reach for easy at hand. Storage may be your top concern, but handy storage makes for a more efficient kitchen space. It can be hard to imagine a space you have been living with in any other way than it is – that's why it's so useful to work with a kitchen remodeling contractor with an eye for detail.
North Twin Builders would be glad to help you come up with a plan for your kitchen to make the most of every inch available. And many of our kitchen remodels improve the energy use and overall performance of the room, as well! We can design and build the kitchen that works for YOU, with the storage space that YOU need!
Do you have innovative kitchen storage ideas that you would like to share? Find North Twin Builders on Facebook and we would love to hear the storage and organization solutions that you've discovered!