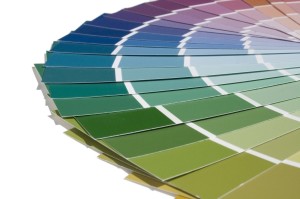 Choosing your home's color scheme can be challenging, even for those with an eye for design. It's difficult to see your home in its entirety, and you do want an attractive flow between rooms. There are a million tips on choosing just the right colors, but the most important thing is to choose hues that reflect your individual tastes and vision for your newly remodeled home.
What is Your Vision for Your Home Remodeling Project?
What feelings do you want your home to inspire? Which interior spaces should be soothing and which invigorating? The colors surrounding you can affect your moods, so think about each spaces purpose. Your vision for your new home or home remodeling project should be determined before making any remodeling decisions. When you work with a quality home remodeling contractor, they can help you identify these goals, as well as bring your vision into each element of the improvement project.
Your personal tastes and preferences should be given more weight than current trends in home design. Following fads can leave you unsatisfied with the space, and you are unlikely to appreciate such color schemes for long. Do you prefer a bold look, traditional décor or a rustic atmosphere? Your home should reflect you and your lifestyle!
Finding Inspiration for Your Home Remodeling Project
Finding inspiration for color schemes for your home remodeling project is easier than it sounds. Look for inspiration all around you –
Your favorite artwork.
Choice pieces of furniture; it is more affordable to choose paint colors that work with your home's furnishings than to replace furniture that clashes with the paint.
Your landscape – the colors that work together in nature will blend well in your home, and taking inspiration from your landscape creates a connection between your home and its environment.
Consider themes such as the beach, rustic Northwoods, etc.
Check paint suppliers' websites – many have palette tools for ideas, and show how certain colors will work together.
Browse online for styles that you like, but keep a realistic attitude. Just because you love the way a checkered black and red bathroom looks online doesn't mean you will appreciate living with it in your own home. Houzz is a great website to find inspiration for every element of your home remodeling project.
Choosing Your Home Remodeling Color Palette
Once you have your vision for your home remodeling and found some inspirational ideas as guidance, you are almost ready to pick your colors. Think about the big picture, and how rooms will work together for overall aesthetic appeal. Lighting is also an important factor. When choosing each rooms color scheme, consider the following:
Home designers recommend following the 60-30-10 rule, which means 60% of the room would be the dominant color, 30% the secondary, and 10% the accent color.
Think beyond paint – cabinetry, finishes, flooring and window frames are a great way to tie colors together and make a statement. And if you have fantastic dark hardwood flooring, using a neutral shade on walls can really complement the flooring.
Accent colors can be fun and add zest to each room. Consider choosing two main colors to use throughout the house, and using a different accent color in each room.
Try using the same color scheme in each room, but mixing up the way you use each color.
Cautious about mixing different colors? Choose one color and use different shades of the same hue for a color scheme that is sure to blend well but still offer depth and diversity.
Think about the view from each room.
For hallways and transitional spaces, try an opposite approach as the surrounding rooms. For example, if larger spaces are done in bold hues, keep the transitional spaces neutral to blend with each surrounding room. If you stick to a white or ivory for a dominant, have fun in hallways with a brighter color.
Try warm colors for rooms that don't get much sunlight. Know which areas will receive the most sunlight and remember that paint will reflect natural light.
Beware making a decision based off sample cards in a store – fluorescent lights will alter the hue, and the sample won't necessarily reflect what the color would look like in your own homes lighting.
A color consultation with a professional interior designer can be very beneficial, as well. Eyes For Your Interior would be a great choice for a color scheme consultation or any interior design project. Eyes For Your Interior can step in with a fresh eye at any point in your home remodeling project to help create home spaces that fit your vision and your lifestyle.
North Twin Builders – Your Quality Home Remodeling Contractor
Are you considering remodeling your home or want more space with a home addition? North Twin Builders has decades of experience, and will work closely with you to bring your home vision to reality. We ensure that each element of your remodeling project is completed to the highest of standards. Visit our online gallery for examples and inspiration!