When undergoing a home improvement project, it may seem like there are endless decisions to make. One of the most important is the style of flooring because this plays a vital role in the comfort, aesthetics and function of each room. By assessing the pros and cons of each choice and determining your personal preferences, you will best be able to select the right flooring for each room. And when in doubt, ask your home improvement contractor for their recommendations!
Flooring Factors to Consider
The choices in flooring can be daunting – inexpensive linoleum or ceramic tiles, hardwood or softwood, ho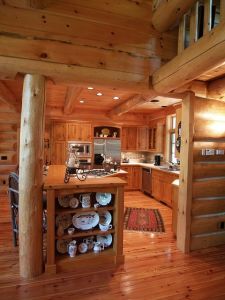 w can one decide? Fortunately, you don't have to stick to just one style throughout the entire home. In fact, different choices work better for different rooms. Utilizing diverse flooring types can create unique spaces and demonstrate a divide between open room concept floor plans, while still blending together in an aesthetically appealing way when chosen with care and installed properly.
Considering the function of each area can help you make the right decision. Areas with more moisture, for example, are not well-served with carpeting. And the last thing you want is a slippery floor in a bathroom or kitchen, where the floor is likely to get wet. Similarly, the desired comfort level should be a factor. A living room should be warm and inviting, and installing linoleum or marble flooring is not likely to create a cozy feeling for the space.
Having a strong idea about your overall interior design goals can also direct flooring decisions. You don't want your flooring to clash with your furniture selections or decorating style. Advice from a professional interior designer, like Eyes for Your Interior, can help with these goals. Take a moment to consider the purpose of each room, the feelings you want it to inspire, and then weigh your options.
Home Improvement Decisions: Carpet Vs. Hardwood Floors Vs. Tile
The three most popular flooring materials are carpeting, hardwood, and ceramic tile. Many factors can affect your decision, including ease of care, allergy potentials, design, and feel. Consider first which room works best with which flooring.
Kitchen: Linoleum, ceramic tile or wood are best because they don't absorb moisture like carpeting.
Bathrooms: Linoleum, ceramic tile, marble or granite all work well.
Living rooms/dens/family rooms: This is a matter of personal taste, although carpeting or hardwood flooring is recommended.
Bedrooms: Carpeting is the most popular, although wood flooring with area rugs can be comfortable.
Ceramic Tile Flooring
Ceramic tile has been gaining popularity, although this material can be more expensive than most. Tiles feel cold and hard on your feet, making it more suitable to bathrooms or kitchens than living spaces and bedrooms. However, it allows for practically unlimited designs and patterns. And texture can vary, so you can prevent a slippery bathroom floor. In addition, it is easy to clean and maintain and very durable, as long as the subflooring is stable.
Carpeting
Carpeting acts as a natural insulator for a room. Because of this, it is an energy-efficient material, especially for areas that do not have heat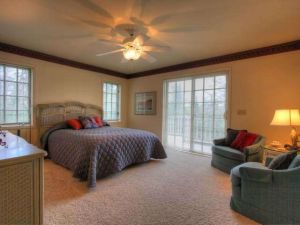 underneath. It also muffles sounds, which is good for upper levels of the home. Because the color and texture selections are so wide, carpet can be very flexible for design purposes, and creates more comfortable sitting or standing areas.
On the other hand, carpet is one of the most difficult materials to clean, and allergens, dust and germs can get trapped in its threads. People with allergies often stay away from carpeted flooring. Carpet also is the quickest to show wear in high traffic areas, and once it begins to wear out, there is no choice but to replace it entirely. However, given the coziness, carpeting can be great for bedrooms or family rooms.
Hardwood Flooring
Hardwood flooring is both a practical choice and one that adds instant appeal to a home. It is easier to clean than carpet, and doesn't wear as fast. In fact, hardwood flooring has a lifespan of 25 years or more (compared to about 10 years for carpeting), with the extra perk that it can be refinished to look like new several times before needing to be replaced. And if you are considering selling your home, hardwood flooring can increase the resale value by several thousand dollars, according to the National Association of Realtors.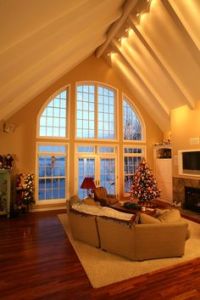 Most homeowners choose hardwood flooring for its appearance. It inspires a feeling of luxury and can even make a room feel more spacious. Wood flooring is seen as both sophisticated and homey. And with the many different types of wood and a variety of stains and finishes, each hardwood floor is unique in appearance and can be made to fit most interior design visions.
There are not many downsides to hardwood flooring, other than it can be more expensive to install than carpeting. It's easy to clean, but can be a slippery surface. It's a good choice for almost any room, and a well-chosen area rug can produce the same comfort and warmth as carpeting. And area rugs are easier to clean and replace than their full floor counterparts. Overall, wood flooring is a great choice for your Northwoods home.
The Right Flooring for Your Northwoods Home Improvement
Which flooring choice is right for your Northwoods home? It really comes down to your taste preferences. Do you enjoy the natural beauty of hardwood, the elegant appearance of ceramic tile, or the cozy feel of carpeting beneath your feet? Working with your home improvement contractor can help you find the best quality flooring for your budget and find creative ideas to mix different flooring types throughout your Northwoods home. And remember that the quality of the installation job can affect the finished look and durability of your flooring.
Are you ready to begin your home improvement project? Contact North Twin Builders for a quality home improvement contractor that you can count on. From energy efficient improvements to whole home remodeling projects, our experience and attention to detail ensures a successful experience and outcome. See for yourself how North Twin Builders' quality makes the difference!