It's easy to remember window maintenance in the winter when that Northwoods cold air is leaking into your home, creating uncomfortable drafts. However, well-sealed windows are equally important in the summer to save on energy consumption and keep your indoor temperature nice and cool. And this is the time of year that repairs can be made easily, or replacement windows installed.
Check Your Windows for Damage and Leaks
Begin your summer maintenance by checking your windows and doors for air drafts, leaks and visible damage. You can easily perform a home pressure check by closing all doors and windows, dampers and vents and turning off exhaust fans. Light an incense stick and run it along all openings to check for drafts. A more thorough option is to schedule a home energy audit or infrared testing of your home, which can be quite affordable through programs such as Focus On Energy.
As you inspect your windows and doors, watch for gaps that could be filled with caulk or weather stripping. If your window rattles in its casing, it means that the frame isn't secure and air can leak in and out. This could also be an opening for water damage from summer rains and insects to gain access to your home. Even if you performed maintenance on your home's windows before winter, it's still necessary to repeat, as caulk and weather stripping can harden, crack and shrink in extreme temperatures like we have here in the Northwoods.
In some situations, you can repair minor problems with your windows yourself but it may be time to purchase and install new windows. You don't want to attempt this in the colder seasons, so now is the perfect time!
Shop for Energy-efficient Windows
Choosing Energy Star certified windows can lower your utility bills by up to 15%!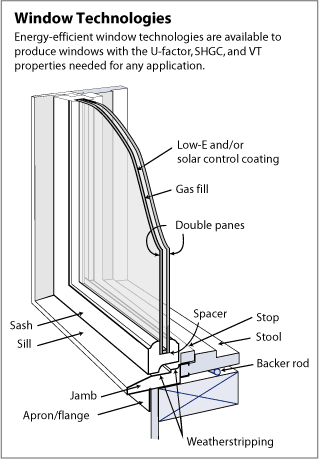 All of the technical terms and ratings that qualify a window as energy-efficient can be hard to understand. When in doubt, watch for the Energy Start label or visit Energy Star online for a complete list of their partner manufacturers.
Energy Star focuses on several different components of a window to declare it energy efficient, and there are several levels of efficiency available. Quality frames made from fiberglass, vinyl, aluminum, wood, or combinations of these materials create better insulation. Multiple paned glass is also key, and better if filled with a non-toxic, invisible gas as opposed to air. Low-E glass includes a spectrally selective coating that reflects light, helping to keep heat where it should be and your Northwoods home a comfortable temperature.
Trust your Home Contractor to Maximize Energy-Efficiency
You can buy the most energy-efficient windows in the world, or put all your time into fixing up your current windows and window casings but if the job isn't performed correctly, you will still have air leaks and energy loss. Call a trusted home contractor like North Twin Builders to help you select the right windows for each area of your home and install them correctly.
With an Energy Star certified home builder like North Twin Builders, you get the expertise and knowledge necessary to maximize your homes energy-efficiency. With our thermal imaging equipment and experience, we can help you locate problematic drafts and missing insulation, identifying key areas to enhance your home's energy-efficiency. And our dedication to quality means we will complete repairs and installations with the highest of standards. Don't throw away your money on expensive utility bills or subpar home contractors – call North Twin Builders today!