The Northwoods of Northern Wisconsin and Upper Michigan offer visitors and locals an abundance of beautiful forests and lakes to appreciate. And for silent sports enthusiasts, this quiet area is like a dream come true, with miles of country roads and constantly improving hiking and biking trail systems that would be the envy of any hiker or biker. Can you just picture how great it would be to have natural resources like these right in your own backyard?
Iron River's Apple Blossom Trail is Just the Beginning
Iron River is one of many small, quiet towns in the vast frontier of the Upper Peninsula of Michigan. The unique shopping, beautiful views and large property parcels are steeped in the rich mining history of the area. In the case of Iron River, that history is focused on the iron ore industry in the mid 1800's.
The Apple Blossom Trail was restored to honor that past, as well as offer an up-close nature experience for outdoor lovers. The trail begins in Caspian, across from the Iron County Museum, and runs 2 miles to downtown Iron River. Along the way, interpretive historical signs display the significance of the trail and mark points of interest.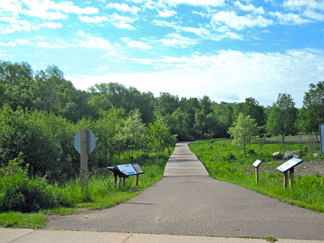 One such display points to the spot where iron ore was first discovered in the area, by Harvey Mellon in 1851. This was the beginning of the iron mining age, while the majority of the Upper Peninsula was immersed in the search for copper. The entire trail is historically significant, in that it follows the original rail line that connected Chicago to the local iron mines.
With the immense Ottawa National Forest bordering the town of Iron River, it is no wonder that more trail systems continue to be developed and improved. Trail enthusiasts hope to see the Apple Blossom Trail linked into a much larger system of over 20 miles of hiking and biking trails. And these trails are just one way to enjoy Iron River's breathtaking setting!
Build a Custom Home in Iron River with North Twin Builders
Are you ready to build a life or a second home in the beautiful area of Iron River, Michigan? North Twin Builders is happy to help! Enjoy the beauty of nature from the comforts of a custom designed home that you can trust to last! Our quality construction, attention to detail, and energy-efficient practices equals a home you will love!