We began discussing Smart Homes in the recent blog, 'Smart' Homes – Love It or Hate It?: Smart Locks, and today we will explore the idea of Smart Appliances. Here in the Eagle River area, we don't often see home products like these in the store and the idea of Smart Appliances might seem foreign. These hi-tech innovations are gaining steam around the country and we want to hear your opinion!
How Smart Is Your Eagle River Home?
Companies have been making Smart Appliances for years, and older tech products can be found in many homes –coffee pots with automatic timers, programmable thermostats, hair straighteners with automatic shut offs. These could all be considered 'smart', but the home industry continues to move forward with new technology.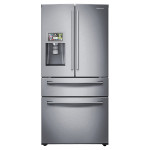 Today, you can make your Eagle River home as smart as you want. There are fridges that can help you diet, washers than can text you when the cycle is complete, and even robot vacuum cleaners. You can lock your door with smart phone apps or turn off your lights or security system. How smart is your home is no longer the question – how smart do you want your home to be? As these new technologies become more affordable, many may be considering upgrading appliances and home systems. Which technology interests you?
Smart Home Appliances for Your New Custom Home
With big brand companies like GE, LG, Samsung and Whirlpool all jumping on the hi-tech bandwagon, we will see Smart Appliances become increasingly affordable, to include more and more everyday appliances. One new trends is the Smart washer/dryer. You can get a Whirlpool Smart Duet Pair for roughly $1500. Not only does it send you a text when your laundry is done, but can notify you if there is a problem and allow you to start or stop a cycle from anywhere.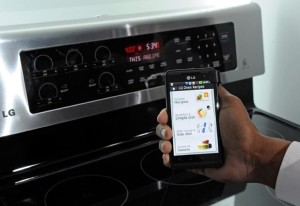 GE Brillion-enabled ovens allow you to turn on your oven and control your cooking temperature remotely. Imagine being on your way home from the grocery store, and pressing a button on your phone to pre-heat the oven – this may be a working parents dream! LG Smart ThinQ appliances include refrigerators, washers, dryers and stoves. Samsung is selling smart fridges that are Wi-Fi enabled with a touch screen so you can access apps right on your fridge. Why do you need an LCD screen on your fridge? Access recipe, grocery list, calorie apps or just watch the news, it's really up to you.
Samsung and similar brands continue to make more appliances 'smarter' every day. It really comes down to how much you are willing to spend for this luxury – or is it convenience?
Home Automation to Control Your Appliances from Anywhere
If you aren't interested in replacing all your appliances, a more affordable option is available. Home control plugs are becoming the new home tech option, and can be bought individually for as low as $40. By simply plugging the device into your home's outlet, and then plugging in your appliance of choice, you have installed a home automation system!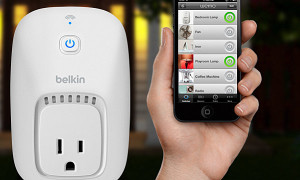 Products like Insteon or Vivint plugs use radio frequency to give you home control/automation. You can turn appliances on or off from anywhere, and some can even alert you if you forgot to turn a light or your stove off with smart phone notifications. Certain products can sense an electric surge or problem, and shut off power to that appliance. The Wemo Switch allows you to program an appliance or light to turn on at a specific time, and can be upgraded to include a motion sensor for $80.
The subject of Smart Appliances and Smart Homes goes beyond comfort and convenience. Many of the new Smart Home technologies are designed to increase your homes energy-efficiency and allow better control of energy use. Consider smart faucets that can't be accidently left dripping and control water usage and waste. The options are truly unlimited, and becoming more so every day.
North Twin Builders – Eagle River Energy-Efficient Custom Home Builder
Are you interested in home improvements to increase your energy-efficiency? As an Energy Star Home Contractor, North Twin Builders can help! With our energy efficiency knowledge and experience, we can build your new custom home to be as green as you want! Contact us today to learn more!
Do some of these Smart Home technologies sound like science fiction? Are you already enjoying Smart Appliances and home automation systems? North Twin Builders wants to hear from you! Share your thoughts with us here on North Twin Builders Blog or find us on Facebook!