When it comes to remodeling your kitchen, the sky is the limit for choices. Do you want a kitchen island, eat-in kitchen, new appliances or updated cupboards? If you have been dreaming of a walk-in pantry, here are some points to remember from North Twin Builders, your quality remodeling contractor in Vilas County.
All things should have a purpose…
Before letting your dreams run wild, determine exactly what you would use a walk-in pantry for. Canned and boxed food items? Seasonal dishes and appliances? Cook books, kitchen linens, wine cooler? Write it all down and plan ahead to ensure a space that will fit your needs and be fully utilized.
Space isn't always your best friend…
Not every kitchen can accommodate a walk-in pantry. Talk to your remodeling contractor to determine if your kitchen can handle a space like this. You may not be able to see spaces that can be re-purposed as easily as someone who hasn't been living in the space.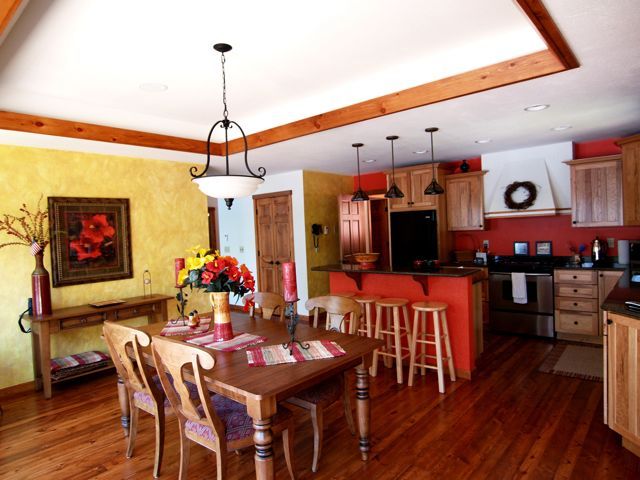 Don't have the square footage to work with? How about a shallow closet with pull out shelves? 40 inches can make a big difference in kitchen organization.
There is such thing as bad space…
Pantries should be dry and accessible. A walk-in pantry that is located too far from your work space will just accumulate dust. Placing it near a laundry room or the stove could create a damp space that will shorten the shelf life of stored items.
Too much space can also be bad and take away from the overall functionality and feel of the kitchen. Do you really need to store that much food? Consider future use as well when planning your kitchen remodel.
Don't forget floors and doors…
Many walk-in pantries include more hallway than they really need. That said, don't end up with a space that you cannot turn around in. Make the most of the floor space with a variety of storage options.
The back of the pantry door could be utilized as extra storage with a hanging rack. Or paint with chalkboard paint for a grocery shopping and menu planning too.
Short on square footage? Incorporate a folding or sliding door to prevent flow disruptions in the kitchen.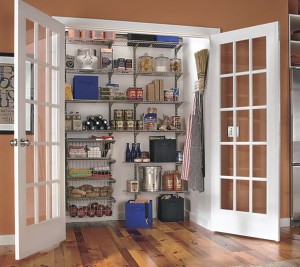 Plan ahead for shelving and storage…
Whether custom building shelves or purchasing pre-built storage units, look back at your intended purpose to determine what is right for you. Deep storage allows items to become lost, while 12 inches deep fits most items.
Wire shelving can prevent dust buildup but may not suit your purposes. What about a wine or dish rack? Drawers or pull-out shelves? Overhead storage for rarely used items can save space.
Lighting is key…
Do you really want to hunt through a dark closet for the item you need? Make sure that lighting is adequate and properly installed. You may also want to plan for an outlet or two.
Determine your budget…
How much pantry can you afford? Surprisingly enough, adding a walk-in pantry can be much more affordable than custom cupboard installation, with a big return on investment. Remember that you may not need or be able to have a full walk-in pantry. Communicate with your kitchen remodeling company to make your dreams and your budget come together realistically.
And then call a professional remodeling contractor to make it happen!
With our years of experience and attention to detail, North Twin Builders is well-equipped to help you design the kitchen of your dreams while fitting your budget. We can help you identify the factors that mean the most to you personally, and suggest ways to save or creative use of space. Give us a call today to learn more about our quality remodeling services!