Flooring For Your New Home
When you are creating a budget for your home construction, flooring is an area where you can exercise quite a bit of control. Often times, carpeting is a more affordable flooring option, and an option that creates a feeling of comfort underfoot, especially popular for bedrooms and living areas.
The fact that carpeting may be more affordable doesn't make it necessarily so, and as with all things, the quality will increase the overall cost. But where exactly do your carpeting dollars go? Let's take a look…
Square Yards of Flooring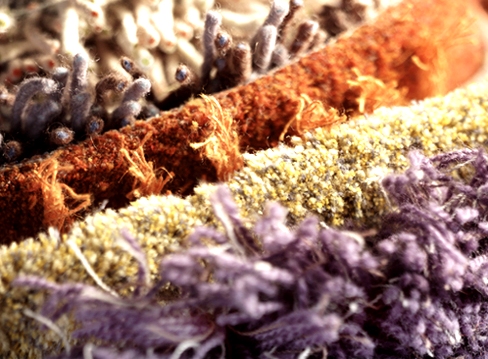 Naturally, the more you need, the higher the expense. Some areas of the home are better suited to tile or hardwood flooring, and personal preferences in new home design differ greatly. Start by determining how many square yards of carpet you are going to use, and remember that there are some yards lost in installation, so round up.
Quality of Materials and Design
Quality costs, and the materials that your carpeting is made of is a major factor in final cost. The three main material choices for carpeting are wool, nylon, and polyester.
Wool: Most expensive – figure approx. $80 per square yard. Cons: Stains easily and susceptible to mold. Pros: High quality and attractive.
Nylon: Moderately expensive – approx. $27 per square yard. Cons: Reduced quality and prone to static electricity. Pros: Long-lasting and mold/stain resistant.
Polyester: Least expensive – approx. $13 per square yard. Cons: Low durability. Pros: Fade-resistant and colorful.
No matter the materials, some carpeting is better crafted and simpler colors or designs are likely to be more affordable. And be sure that you are taking your home's heat source in to consideration, both in padding and materials.
Padding for a Comfortable Home
Carpeting laid without padding would not add much to the comfort level of your new home. Good padding makes the flooring feel more comfortable, while allowing for easier maintenance and carpet durability. Not all types of padding is suited to all carpet types, but the three most common types are:
Natural/Synthetic fiber pads: Most expensive – approx. $6 per square yard. Dense and long-lasting.
Bonded/Rebonded pads: Moderately expensive – approx. $5 per square yard. Most common, made of foam chunks.
Prime urethane pads: Least expensive – approx. $4 per square yard. Compresses easily after installation.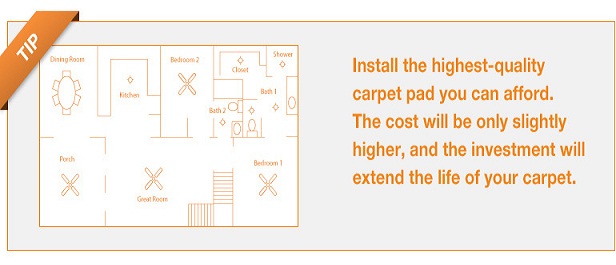 Don't Underestimate Installation
Although some homeowners may be well-equipped to lay their own carpets, this chore is more complicated than at first glance and a quality installation is best done by professionals. That said, many companies claim professionalism and fail to deliver. And often times, homeowners are surprised by the total cost of installation. This may include fees for:
Removing old carpet
Measuring square footage
Delivery of new carpet
Actual installation
Additional fees for areas such as stairs or connection points to other types of flooring
By asking questions of the company and comparing apples to apples on estimates, you can determine a rough cost of installation. And as with any home service, North Twin Builders recommends asking for references or checking customer reviews online before committing to any company.
Choose the Right Professional for You
A company that is dedicated to quality will help walk you through the selection of carpeting and padding for your new home, without pushing the most expensive option. A true professional will weigh your budget and preferences to suggest the best options for you. This is the same for your new home builder – strong communication is key to a successful construction experience! North Twin Builders looks forward to working with on your new home design, for floor to ceiling quality!