You may hear the term "green building" all of the time. But do you understand what it means? Also referred to as sustainable building or high performance building, it is often associated with renewable energy and home features like solar panels and rainwater harvesting. In truth, green building simply involves building a home to last using quality materials that will reduce the home's energy consumption and improve comfort.
"Green building is the practice of creating structures and using processes that are environmentally responsible and resource-efficient throughout a building's life-cycle from siting to design, construction, operation, maintenance, renovation and deconstruction." – Environmental Protection Agency definition of Green Building.
Another common misconception is that green building means more expense for your new home construction. This isn't necessarily true, and when there is additional initial cost, it is offset in energy savings. Purchasing high performance windows may impose an additional cost, yet reduce the need for high cost heating and cooling systems, balancing out the initial expense.
This North Twin Builders Blog will begin a look into the main elements of green building to help homeowners and home buyers understand the topic better.
Why Build Green?
Enhance your home's indoor comfort.
Reduce future maintenance and utility costs.
Reduce waste and conserve natural resources.
Reduce your environmental footprint.
Enjoy peace of mind with a home that is built to endure.
Green Building Starts With Home Design
Although you can implement green building at any point in the construction of a new home or a home remodel, these practices are best begun in the design phrase. It's important to discuss your desire for green building with your contractor right from the beginning of the design planning. If you choose a quality builder with an understanding of energy-efficiency and building science techniques, your contractor will be able to make informed recommendations for your new home design.
Site Planning for Green Building
Ideally, you have chosen your property with your goal of green building. Site planning is an important factor for this process. Storm water management strategies should be considered, and you may choose a permeable paver option for parking and driveways to help meet your green goals. Making use of a properties natural landscape can save money during the construction process, and for years to come.
Construction can be achieved in a manner that will minimize damage and disturbance to the building site. This can reduce the risk of killing natural vegetation or producing harmful runoffs. Sunlight is also an important consideration. Your contractor should be able to identify where natural light can be made the most of, and design window placement with this in mind.
Quality Building Materials & Quality Construction Makes All the Difference
Another initial consideration for green building should be choosing high quality construction materials. Incorporating sustainable materials or even recycled products makes a major impact on the environment and the home. Each component of your home should be built with attention to energy-efficiency in both materials and construction methods.
The design of the home itself can lend to a greener construction. Proper framing, good air sealing, quality insulation and even your roof can save you money in the future, and increase your home's comfort.
Choose a Quality Home Builder with Energy-Efficient Building Practices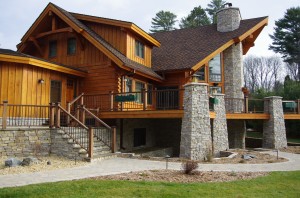 You may have the best intentions for your green building construction project, but if you hire a contractor who doesn't match your commitment, you will be left unsatisfied and possibly even misinformed. Look for a building contractor who can demonstrate energy-efficient building knowledge. Your home builder should be able to recommend green enhancements or features throughout the design and construction process.
North Twin Builders is an Energy Star General Contractor, and we pride ourselves on staying up-to-date on the latest energy-efficient building practices to build your home to the highest level of comfort. Have a question about green building techniques or energy-efficient home renovations? Give us a call today!